World cup akan diselenggarakan di Qatar. Belum lama sudah terkuak dugaan
kasus penyuapan luar biasa
. 1200 pekerja sudah jadi
korban tewas.
Kondisi ketenaga kerjaan disana yang dipersoalkan, karena sama dengan PERBUDAKAN.
Apa yang salah? Mengapa diantara semua negara dunia hanya negara Islam yang mengalami kasus serupa? Pokok masalah adalah pada filosofi dan ajaran agama Islam yang asli. Islam satu-satunya agama dunia yang sampai hari ini masih melakukan perbudakan yang disebut "
KAFALA
" yang diterapkan di Qatar itu dan makan korban 1200 mati orang itu. Ini baru satu.
Memeras dan menerapkan pajak pada orang non muslim
juga legal, menghancurkan tempat ibadah orang dan melarang bahkan mengusir non muslim diharuskan sesuai wasiat Nabi. Islam adalah satu-satunya agama yang harus begitu banyak direformasi, karena ada kelemahan besar pada ajarannya tentang akhlak dan hak asasi.
UPDATE 22 Juli 2014
Reformasi aturan tenaga kerja luar.
Qatari Government Announces Labor Reforms For World Cup ...
ThinkProgress-Jul 22, Sheik Mohammed bin Hamad al-Thani, chairman of Qatar 2022 bid ... and other infrastructure projects necessary to host the 2022 World Cup.
World Cup host Qatar agrees some foreign worker reforms
Yahoo Sports-Jul 21, 2014
UPDATE: Penyuapan Qatar 5 juta dolar untuk para pejabat FIFA.
A report published in England's
Sunday Times
alleges FIFA officials
accepted payments of around $5m
in exchange for supporting Qatar's bid to host the 2022 World Cup. The allegations are based on millions of secret documents that are said to outline how former Qatari football official Mohamed Bin Hammam bought other officials' votes.
Case Against Qatar. Laporan ITUC tentang perbudakan dalam pembangunan stadium yang sudah makan korban ribuan jiwa:
http://www.businessinsider.co.id/qatar-world-cup-workers-dead-2014-3/#.UzNxMqiSzNs
The Qatar World Cup Is A Disaster: 1,200 Workers Dead, New Bribery Investigation
http://bleacherreport.com/articles/2006221-why-the-2022-world-cup-needs-to-move-to-usa
Over the past three-and-a-half years,
FIFA
's decision to grant the 2022 World Cup to Qatar has been under continual attack. This has happened for a variety of reasons, including bribery allegations, conditions for workers, questions about how homosexuals will be treated in Qatar and, of course, the nation's oppressive summer heat.
This week, the heat has been turned up again on Qatar after the most recent
report
of the International Trade Union Confederation. And, not surprisingly, calls have begun anew to change the tournament's venue.
The
ITUC
report begins by saying that
"Qatar is a country without a conscience"
and reveals a number of disturbing details about how workers are treated in the tiny Arab nation. It even goes as far as saying that "foreign workers [in Qatar] are enslaved."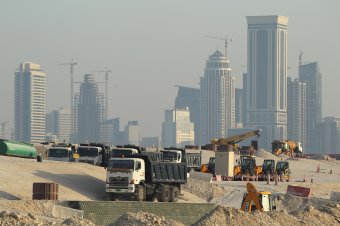 Sean Gallup/Getty Images
Among the horror stories from the report are living conditions in which, "Grown men said they were treated like animals, living like horses in a stable," and where "raw sewage can be seen running by the camps."
One worker, identified in the report as Julie, claims she lives where "eight people share one bedroom, sixteen people share a bathroom and thirty-five people share a kitchen." She also says that she is not free to go where she pleases, "I have to return to my labour camp by 23:00. If I return late, my employer makes salary reductions without notifying me."
Besides being forced to observe curfews, some workers have claimed that they cannot quit. The report includes a story from a construction worker, identified as
Jago
, who says, "I am fed up with the situation and don't see why I should suffer these conditions. I handed my resignation in, but my employer just ripped the letter up and threw it into the bin. He also told me I
wouldn
't get my passport back."
The stories of passports being confiscated by employers is common throughout the report and are the same as those first
reported byThe Guardian
last September.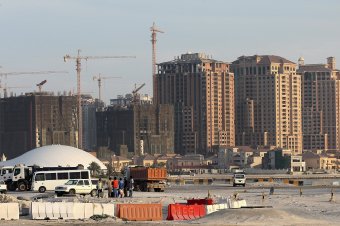 Christof Koepsel/Getty Images
Shockingly, the reports of poor living conditions, curfews and the inability to quit or leave the country are not the end. The
ITUC
report also cites worker safety, lack of clean drinking water, cases of serious physical abuse of female workers and repeated cases of unpaid wages.
A construction manager identified only as Adrian said, "Site safety is the worst I have encountered in 30 years in construction." The report also says that an estimated 4,000 workers will die during construction for the World Cup if conditions don't change.