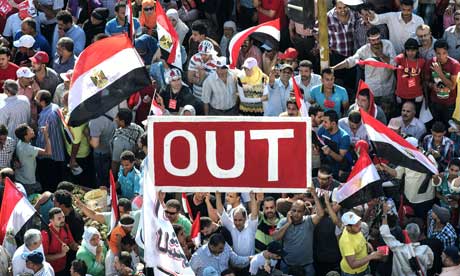 Mengapa Mursi (Morsi) presiden Mesir jatuh? Padahal tahun lalu sudah diharapkan akan kembali mempromosikan syariat Islam, negara berdasarkan agama Islam. Ia adalah doktor lulusan USC dan profesor California State University. Ia pakar dalam keilmuan dan memiliki visi kuat tentang syariat Islam. Sekaligus terpilih secara demokratis. Ihkwanul Muslimin pendukungnya adalah partai paling terorganisir dan kompak. Amerika mendukung Mursi. Sungguh kombinasi ideal. Ia terpilih bulan Juni 2012 dengan suara 52 persen.
Lalu mengapa jatuh? Analisisnya:
- Selama memerintah Mursi tidak membuat rakyat semakin sejahtera, tetapi semakin sengsara. Penyebabnya adalah karena ia tidak mau mendengarkan nasehat untuk menggalang kerjasama dengan nasionalis dan sekuler lain. Ia lebih suka mendengarkan pendukungnya sendiri, dari Muslim Brotherhood atau Ikhwanul Muslimin. Ia mengangkat orang-orang yang berusaha membuat Mesir makin ke arah syariat Islam. sehingga kebijakannya makin tidak relevan dengan kebutuhan rakyat dan akhirnya ia jatuh, oleh gerakan demonstrasi sipil yang kemudian didukung oleh militer.
NEWS UPDATE:
Pertengahan Agustus. Masjid dikepung tentara 750 orang terbunuh. Amerika dan Barat bingung berusaha mencegah pembunuhan, tetapi tidak berhasil karena militer dan tentara Mesir sudah sepakat menyebut Ihwanul Muslimin sebagai teroris dan mau membubarkan gerakan ini. Kejadian serupa Mesir akan terjadi di Indonesia kalau laskar jihad dan partai Islam garis keras diijinkan berkembang dan menguasai negeri kita.
Egypt: mosque is stormed as generals plan to outlaw Muslim Brotherhood
The Guardian
Lalu gereja dibakar...
Egypt: Islamists hit Christian churches
Philippine Star CAIRO — After torching a Franciscan school, Islamists paraded three nuns on the streets like "prisoners of war" before a Muslim woman offered them refuge. Two other women working at the school were sexually harassed and abused as they fought their way ...
Total 58 gereja dan rumah orang kristen dibakar dalam waktu 3 hari sekitar 17 Agustus 2013!
http://www.jihadwatch.org/2013/08/latest-total-from-egypt-muslim-brotherhood-has-attacked-looted-and-torched-58-christian-churches-sch.html
Mereka (Ikhwanul Muslimin) pikir akan bisa menghindari hukum karma menjahati orang yang tidak salah apapun? Mereka pikir Allah mereka akan menyelamatkan dari tangan militer Islam?
Lebih membingungkan adalah dukungan dunia pada Mursi & co. Amerika Serikat mendukung Mursi. PM Turki menyalahkan Israel. Arab Saudi & co menentang Mursi. Pemimpin politik Aljazair menuduh Saudi menjatuhkan Mursi.. Terus dimana para pembela Islam dan front pembela islam menaruh muka?
Politik berbasis syariat agama Islam sudah gagal. Dimana-mana syariat agama Islam maupun Kristen (dulu) atau Yahudi (dulu) itu gagal dan makan kurban sangat banyak. Eksperimen politik ini makan biaya terlalu mahal. Dasar ideologi agama-hukum-politik ini tidak sesuai evolusi kemajuan dan hak asasi manusia. Tujuan agama-politik ini duniawi, bukan rohani. Mesir mungkin menurutku adalah yang pertama dari serangkaian peristiwa penentu nasib Arab. Kegagalan di Mesir ini akan berdampak serius di negara-negara Islam seperti Iran dan akhirnya, Arab Saudi. Kita sudah dan akan lihat hal-hal dramatis dilakukan oleh people power di negara-negara Islam.

Dan jangan sekali-kali orang Indonesia ke arah syariat Islam. Jangan sekali-kali Islam politik garis keras berkuasa.
--------

ketika Mursi dilantik. Lihat berita dan analisis berikut:



Mohamed Morsi, USC graduate and former CSUN professor, urges 'unity' in first speech as Egypt's president-elect
Mohamed Morsi, an American-educated engineer, "represents the older, more conservative wing of the Brotherhood and openly endorses a strict Islamic vision," said Isobel Coleman of the Council on Foreign Relations. Posted: Sunday, June 24, 2012 8:01 am | Updated: 8:18 pm, Sun Jun 24, 2012.
http://wavenewspapers.com/news/national_world/article_7750c8f2-be0d-11e1-85a7-001a4bcf6878.html

------------


Ketika Mursi jatuh. Pengikutnya rela mengurbankan nyawa demi dia. Mursi bukan Tuhan bukan dewa yang bisa menjamin orang masuk surga. Dia jatuh oleh ketidak-puasan bangsanya sendiri atas caranya memerintah. Dia gagal dan Allah juga tidak (bisa) menolong dia. Pengikutnya mau berkurban jiwa raga. Apakah ini pengurbanan agama demi politik yang pantas?? Dimana rasio nalar otak mereka?? Betul jika dikatakan otak mereka sudah dicuci oleh indoktrinasi agama dan ditipu oleh tujuan duniawi kekuasaan dunia.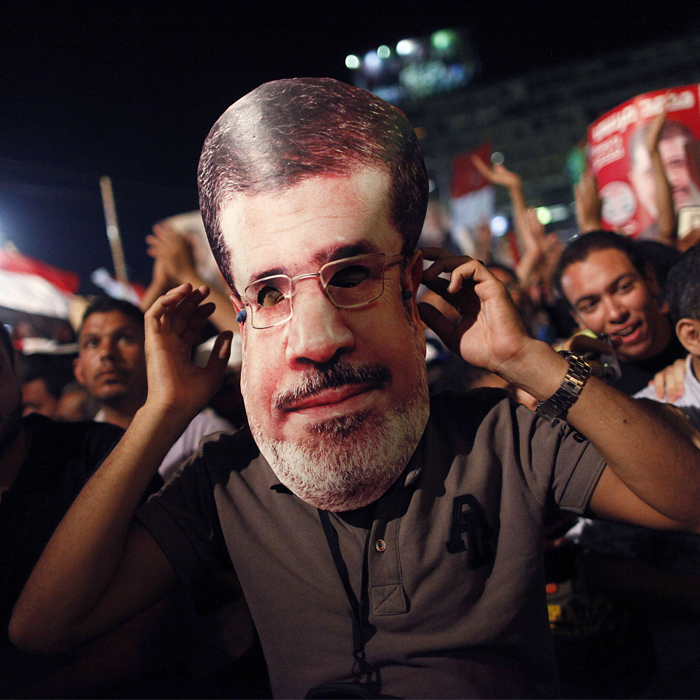 Mohammed Morsi
Mohamed Badie, the chief or general guide of Egypt's Muslim Brotherhood, has vowed that he and millions of supporters of Mohamed Morsi would sacrifice their lives and "souls" for the ousted president.
"We will sacrifice our souls for him," Xinhua quoted Badie as telling supporters during a sit-in at Rabia al-Adawiya Square in Nasr City, Cairo.
"We and these millions will remain at all squares across the country to protect our elected president," the general guide said.
------------
Inilah analisis mengapa Mursi jatuh.
Mohamed Morsi's downfall determined by coffee shop rebels rather than army
A born-again opposition and a president who consistently failed to see his errors were key elements of the 3 July coup d'etat
On Wednesday morning, as
Mohamed Morsi
sat discussing his plight with a small coterie of aides at a base in the east of Cairo, a senior adviser reassured him that the presidential guard would protect him no matter what.
But, as the Egyptian troops moved in on the base following the orders of army chief Abdul Fattah al-Sissi, even this elite unit slipped away, so Morsi could be easily detained. As with so many of the political errors that dogged his presidency, Morsi hadn't seen it coming.
The 3 July coup may have been executed by the military, but its roots lie in a civilian movement.
On the evening of 15 April, Mohammed Abdul Aziz and five other friends sat down in Borsa coffee shop in central Cairo to plot ways to invigorate
Egypt
's tired civil opposition.
According to Aziz, the group's aims were simple at first; to reignite support for a movement that had ground to a halt almost a year into the increasingly unpopular presidency of Morsi.
"In the beginning all we wanted to do was gather petitions to renounce Morsi," he said. But the group soon got a name, Tamarod (Rebel). Within weeks it had also gained a momentum that propelled it to centre stage of a defining period in Egypt's modern history – the ousting of the country's first democratically elected leader.
"I was sure by the number of petitions flowing that Tamarod was going to transform the Egyptian political scene," said Aziz.
The means seemed simple enough, not dissimilar to the campaign that led to the toppling of the previous president, Hosni Mubarak, 30 months ago. Smartphones, Facebook and other forms of social media were critical organising tools, but this time the boot leather of volunteers and old fashioned petitions also played a pivotal role.
"We had a website with an electronic petition and a space for people to put their name down and fill the form out," said Aziz. "They would then print the form out and give it to a volunteer."
By mid-May, he said, there were 8,000 volunteers in 15 of Egypt's 22 governorates.
"That's when it became a popular movement. That's when the idea became a reality."
Egypt's problems had been piling up since November, little more than three months into the four-year term of Morsi's government. Morsi had enjoyed the briefest of political honeymoons. The economy was in torpor, the body politic barely functioning and society deeply polarised.
On one side of a by now gaping divide was the Muslim Brotherhood, the powerful Islamic group that had largely been responsible for sweeping Morsi to power in elections last June.
On the other was the rest of the country — about 48% of voters, according to the poll, which gave Morsi the presidency with close to 52% of the popular vote.
The disaffected included a band of unlikely allies, who sit uneasily even now; at one end were the leftists and secularists, who had been squeezed in January 2011 by the Islamists, at the other those who resented the toppling of Mubarak.
The latter had been a formidable foe-in-waiting. Away from the sweeping scenes of Tahrir Square in January 2011, many millions of Egyptians were uncomfortable with Mubarak's demise. They had been safe under the dictator and some of them had prospered.
The 17 months after his ignominious exit had been unsettling for the Mubarak faithful. But the year since Morsi's inauguration had been even worse.
"It was becoming clear that everything that the state had built, everything that it had stood on, was coming crumbling down," said Ahmed Badawi, a mid-ranking police officer who was unhappy to see Mubarak go. "It was a case of 'my enemy's enemy is my friend, so we joined them in Tahrir Square this time'," he said of this week's revolts.
A senior western diplomat who had spent time with Morsi, his inner court and Brotherhood leaders said the writing was on the wall for his presidency by early this year.
"We had noticed particularly in the past nine months that they had become increasingly disconnected from reality. The army had become more and more worried by the [Brotherhood].
"The economy was being wrecked by the movement. They were spending at least $1.5bn per month more than they should have. They were using months and months of reserves at a critical level. You couldn't deny the underlying trend that the government was heading for bankruptcy.
"Whatever mess they had created was going to lead to civil revolt. Soon they wouldn't have been able to pay for civil servants' salaries."
By March, serious diplomatic efforts had started to convince Morsi to form a government of national unity.
"We were trying to convince them to broaden the base of political participation," said the diplomat. "After much negotiation, they declined and then went about making it even worse by maintaining a technocratic government run by newly promoted lower-grade officials with bad ideas. What did it for me was the appointment of the culture minister."
The nomination of Alaa Abdul Aziz led to the sacking of five key cultural figures, including the head of the opera house and the National Library and Archives, and a view that he was trying to impose an Islamist agenda on cultural institutions which had always been avowedly secular.
From every angle, Morsi was increasingly being seen as, a captive of his constituency. "By that time, the Tamarod movement was really becoming something," said the diplomat. "And that added a dynamism and sheer scope to what had been taking place."
By mid-June, with other state institutions now sharing the military's alarm, the tide was clearly turning against Morsi. Tamarod claimed to have received more than 20m petition signatures.
Within a week, citizens experienced shortages of essentials, especially food and fuel. Long queues for fuel are rare in Egypt, where the military has a significant stake in the gas and oil sector and is usually a guarantor of supply. But in the leadup to the first anniversary of Morsi's swearing in – June 30 – the date chosen by Tamarod for a march en masse to the place where it all began, Tahrir Square, the shortages seemed specially severe.
By then, the army had given Morsi the first ultimatum: find ways to end the crisis within a week. Unable to deliver, Morsi watched as the large crowds hoped for by the born-again opposition materialised.
The army posted statements on its Facebook site acknowledging "huge crowds of protesters" on the streets. Things were moving quickly now; when the first deadline expired, the Egyptian military chief, Abdul Fattah al-Sissi gave Morsi another deadline, this time 48 hours. It was to be his last as leader.
Last Saturday, with his political legacy crumbling, Morsi cut a serene figure when the Guardian met him in his office in Quba Palace, Cairo.
The streets of the capital were tense, but Morsi appeared cocooned, even oblivious to what had begun to take shape.
"How confident are you in the army?" the Guardian asked him. "Very," he replied. How wrong he was.